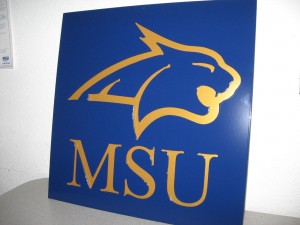 Coating applications are endless.  The automotive, industrial, and building industries along with your personal needs have put powder coating to use in many applications.  The "Green" aspect of powder has made it a finish application of today.  There are no VOC's emitted in the air and no sludge waste to dispose of in the powder coating process.
Powder Coating is a tuff durable paint finish introduced over 40 years ago.  It is applied in a electrostatic dry powder form and baked on any metal item.  Aluminum, steel, cast iron, etc.
There are hundreds of colors, textures and finish types of powders to choose from.  Hammertones, textures, glossy, matte and even rust finishes are available.  Some of our powder suppliers are Cardinal, IFS, Rohm & Haas, Tiger, Forrest Paint and Prismatic.  (Remember when looking at color charts on the computer, they can vary with resolution and computer screens, so be sure to contact Advanced Powder Coating before choosing a color for your project.)  We can find the finish and color you need for your project.
At ADVANCED POWDER COATING, we pride ourselves in high quality and experienced service.  Integrity and honest workmanship is important to us and to you.  Call us at 406-755-0937 to discuss your metal finishing projects or email us at larry@advancedpowdercoating.net.  We guarantee you will be very happy with our service!
June 23, 2013 at 3:24 pmWe have been working with Advanced Powder Coating for the last 10 years, and I have the upmost confidence in Larry and his employees. Larry has gone above and beyond what a person would expect anyone to do to get a project done for us to hit a deadline for our clients. We have never had a problem with any of the work done by Advanced Powder Coating. I have and would not hesitate to recommend Advanced Powder Coating for any of your projects.

Demont Knoepfle
Trumbull Creek Iron
Columbia Falls MT.

Thanks, Demont for the kind words.  We certainly enjoy working with you, too!